While we're obsessed with the masks on our shelves and in our facials that are cleanly formulated for serious results, there are times when some fridge staples can make a perfect skin treat. 

So, we stepped into the kitchen with our Skin Therapists to whip up five DIY masks to calm, cool, nourish, and hydrate, with simple ingredients and a food processor or blender. Just try your best not to lick them off... 
---


CALMING: THE OATMEAL MASK
Oatmeal is hypoallergenic and calms the skin, while the berries release antioxidants. This is sensitive-skin friendly but is soothing for all!
What You Need
1 pouch or cup of Oatmeal
½ Cup of Berries (or however many are left in your fridge!)
Directions
1. Add warm water to your oatmeal and mix until it forms into a thick paste.
2. Mash your berries (strawberries, blueberries, raspberries, we like 'em all) and add to the oatmeal. Try to resist eating what would otherwise be an excellent and nutritious breakfast.
3. Apply to your face for 30 minutes and wash off with warm water (remember, oatmeal is thick, so you may want to wash off in the kitchen sink!)
COOLING & RE-HYDRATING: THE ALOE MASK
Your ultimate summer mask. Use when you're skin is dry and a bit sunburned (gentle reminder to use SPF all day, everyday so this mask isn't a recurring practice!)

What You Need
Naturopathica's Aloe Replenishing Gel Mask or Pure Aloe Vera Gel
Your Facial Oil
Directions
1. Take a few pumps of Naturopathica's Aloe Replenishing Gel Mask (or aloe vera gel of at least 98% aloe content or higher*)
2. Add five or so drops of your usual facial oil.
3. Blend together in your hand or a small bowl and apply to your face. Either apply generously and leave on for 10-20 minutes before rinsing off, or apply thinly and leave on as an overnight mask.
ANTI-INFLAMMATORY: THE SEAWEED MASK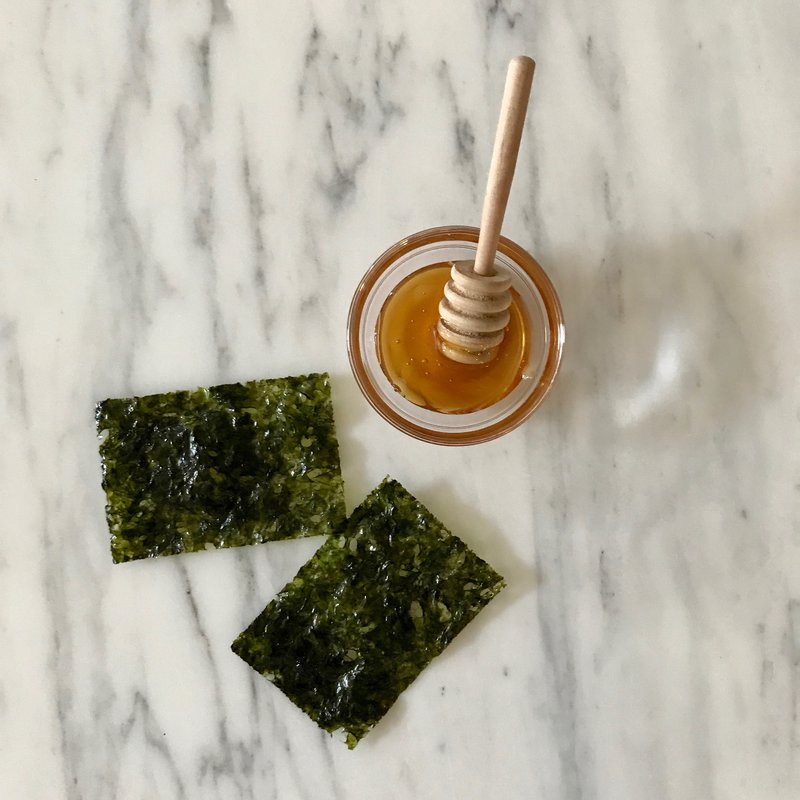 Seaweed is anti-inflammatory and can be a remedy for acne-prone skin. It's also a great choice for dry skin types and calms rosacea. Plus, it's ultra hydrating. Feel free to call it mother nature's triple-threat mask.
What You Need
2 Sheets of Dry Seaweed (or however much you'd like! Your face, your rules.)
1 Tablespoon of Honey
1 Tablespoon of Warm Water
Directions:
1. Blend or crush the dry seaweed until it's in powder form.
2. Add the warm water to the seaweed powder and mix until it's a texture of paste you desire.
3. Mix in the honey – the consistency should slightly thicken.
4. Apply for 20 minutes and rinse with warm water.
EXFOLIATING & BRIGHTENING: THE COFFEE MASK
While coffee brightens our mood, used coffee grounds are known to brighten and soften your skin (yes, those grounds you throw away every day actually have purpose!). Use in a mask to brighten skin or as a body scrub to potentially reduce cellulite with a smooth finish.

For The Face

½ cup of Greek yogurt
Used Coffee grounds
1 Tablespoon of honey
Directions
1. Mix greek yogurt and your warm, used coffee grounds and honey to create a paste. 
2. Wear for 20-30 minutes and gently wash off with warm water.
For The Body

Coffee Grounds
Oil-Based Cleanser or Coconut Oil
Directions
1. Mix your oil-based cleanser with your used coffee grounds (perhaps a sunday morning activity, after your coffee & paper).
2. Gently rub onto this skin in the shower. Wash off and enjoy a second, fresh cup of coffee. ;-)
NOURISHING: THE AVOCADO MASK
We know it's nearly impossible not to eat it, but the natural oils and Vitamin C & E found in avocado will give your skin a nourishing boost.

What You Need
½ Avocado
1 Tablespoon of Herbs (we like sage for this one, but feel free to use a favorite!)
Directions
1. Cut and mash and avocado until it becomes a thick paste (almost like guac, but skip the lime and chips for this)
2. Grind the sage into a powder and sprinkle into the avocado mixture.
3. Apply the avocado mask to your face for 20-30 minutes, then rinse with warm water.